by James McAuley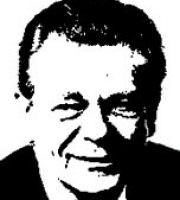 Stillness and splendour of the night,
When, after slow moonrise,
Swans beat their wings into the height,
Seeking the brilliant eyes
Of water, where the ponds and lakes
Look upward as the landscape wakes.
The loved one, turning to her lover,
Splendid, awake, and still,
Receives as the wild swans go over
The deep pulse of love's will.
She dies in her delight, and then
Renews her tender love again.
Where fragrant irises disclose
A kingdom to the sense,
The ceremony of pleasure goes
With stately precedence;
Like rich brocade it gleams and glooms
Through the heart's dim presence-rooms.
The wagtail in the myrtle-tree
Who cannot sleep for love
Sings all night long insistently
As if his song could prove
What wisdom whispered from the start,
That only love can fill the heart.
He sang under the boughs of youth,
Through twisted shadowed years;
He sings in this clear night of truth,
And now my spirit hears;
And sees, when beating wings have gone,
The lucid outline of the Swan.
From:
Collected Poems 1936-1970
Last updated January 14, 2019