by James McAuley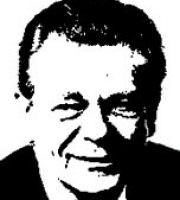 Wet mirrors covering soft peat.
Swag-bellied graceful mares in foal.
Red-umber bulls on plashing feet
With mild white face and curly poll.
Crutching time; each heavy ewe
Is trimmed and slides off down the chute.
The mountains are cut out in blue.
An opalescent sky is mute.
Ducks loiter. Children play before tea.
In the home paddock a lone goose
Follows the cows for company.
It is a world of sense and use.
From:
Collected Poems 1936-1970
Last updated January 14, 2019