by James McAuley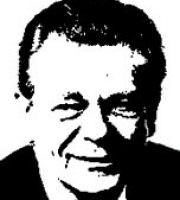 The thick candle with the golden flame
Dipped in the womb of waters—holy rite—
Quenchless has quickened it with secret light;
The dead have risen; seraphs sing the Name,
Which is an oil poured forth upon the night.
Come, flesh redeemed, with chrism of joy anointed,
The children of the Spirit and the Bride,
God's breathing icons: naked side by side,
Enter the paradise for you appointed;
The Cherub's sword shall guard you, not divide.
From your embrace in flower honey is stored
By spirits clustering in the eternal comb;
Expectant earth beneath the starry dome
Sings through your bodies' rapture to its Lord:
O Lumen Christi, leading all things home.
From:
Collected Poems 1936-1970
Last updated January 14, 2019