by John Lars Zwerenz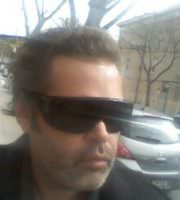 A GARDEN IN PARADISE
I took her hand beneath the quivering diamond trees
Which shook their hymns upon us in the warm, October sun.
We found paradise in the glades beneath our knees
As flute and horn, wistful and fantastic
Swept through the redolent, scarlet breeze,
Near azure brooks which forever run
Through valley and dale, mellifluous and majestic,
Gracing reeds with currents that shine in gilded rays.
(I love my bride, and her angelic ways.)
The ocean nearby, beyond the alabaster statuary,
Rises with the tide and caresses the purple rocks,
As she reclines on a marble bench with gracility,
Dreaming in her mystic trances, caressing her raven locks.
And the sunset sighs as the fountains rise
To the nascent stars which languishing, hover,
Over the vast and silent courtyard,
As she speaks of things with her sanctified eyes,
To her handsome, young lover,
To her passionate bard.
And our kisses are of ivory nights,
When moonlight sobs, when candle lights
Illuminate the astonishing bower.
Come walk with me, my love, it is the hour
When all seraphs sing their hymns from above.
Come walk with me, my lover, my love!
John Lars Zwerenz
From:
Crimson Leaves And Other Poems by John Lars Zwerenz
Last updated January 10, 2015