by John Lars Zwerenz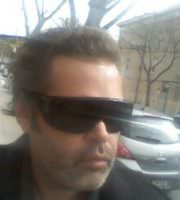 We sat by the rolling, exuberant sea.
Among the florid gardens which surrounded us there,
There were tall, ivory columns which stood in majesty,
Above the sprawling enclosures which were radiantly fair,
Framed by vine clad, teeming walls,
Where ogives led to mystery.
And drinking our fill in celestial balls,
We heard carillons play in a charming wise.
Their rapturous strains of lullabies
Lulled us into dreaming,
Of soporific sapphires, jades and ambers, paradisal blues.
The sky was cloudless,
And we roved among the fleur-de-lis, the blissful summery, gleaming hues.
We ran down to the meadow,
In the cradle of the moon.
And we wandered barefoot in the meads where every sacred, sanctified boon
Revealed itself in the warmth of your kiss.
The heavens remained cloudless,
And the grasses in the field
Intoxicated our enlightened minds
With the effulgent potions that they yield.
The bands which bound us were of eternal kinds.
I watched you as you slept, after our stroll,
In the chamber of the study,
Ornate with silver, diamonds and gold.
And in the distance, the cathedral bells tolled,
As you reclined, your raven mane, which framed your fair face,
Upon your white pillow, dressed with the dew,
Fell like stars with an astonishing grace.
Outside the poplars called to you,
Swaying by the ponds, beyond the alabaster, marble square,
Where carriages await to take us tomorrow into the florid countryside,
With me as your husband, and you as my bride.
Our bedroom where the fire glows
Is of only peace, and soft repose.
Your fair cheeks blossom with the tint of a blushing rose,
As you dream of my embrace, you remove your dress,
Your wedding clothes.
And you bathe in the warmth of my tender caress,
Swooning in your chamber of a regal, pearly white,
As the moon appears through the curtained, glass pane,
Announcing the arrival of the nascent night,
As I place my lips upon your face and mane.
The firmament is painted with a canopy of light.
As the windows in our tower receive the laughing rain,
Which speaks of love and its reticent hour.
We shall awake from our ardor, and walk into the shower,
Looking up at the fountains, and the statues of terra cotta.
We shall mingle with the moonlit ryes, ports and burgundies.
And drink them in the narrow archway,
Studded with blossoms, red like the dawn.
There the fragrance of heaven shall make its descent
And speak of only eternal love,
From the exalted boughs which hover above,
Of emeralds, of violets, of coriander like flowers.
We shall take our union to the seas,
Beneath the ascending, china blue stars,
In those sacred, silent, boundless bowers,
to the wistful, haunting harmonies,
Of mystical, white guitars.
Last updated June 20, 2016