by Jose Marti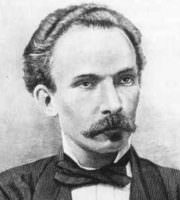 I have come to the strange ball
Where tails and gaiters abound,
And the best hunters the year-round
The New Year wait to install.
A violet duchess careens
In the arms of a red coat:
A painted viscount of note
Keeps time on a tambourine.
And the red waistcoats whirl by,
And the flaming tulles are flowing,
As dead leaves the wind is blowing
In front of a blind man's eye.
ESTOY EN UN BAILE EXTRAÃ"O... (Verso XXII)
Estoy en el baile extraño
De polaina y casaquín
Que dan, del año hacia el fin,
Los cazadores del año.
Una duquesa violeta
Va con un frac colorado:
Marca un vizconde pintado
El tiempo en la pandereta.
Y pasan las chupas rojas,
Pasan los tules de fuego,
Como delante de un ciego
Pasan volando las hojas.
Last updated April 01, 2023