by Jose Marti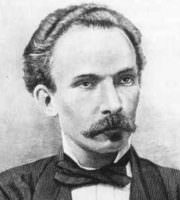 Opening the moorish grate
To lean upon the wet sill,
Pale as the moon, and so still,
A lover ponders his fate.
Pale, beneath her canopy
Of red silk and turtle dove,
Eve, who says nothing of love,
A violet plucks in her tea.
EN EL ALFÉIZAR CALADO... (Verso XVI)
En el alféizar calado
De la ventana moruna,
Pálido como una luna,
Medita un enamorado.
Pálida en su canapé
De seda tórtola y roja,
Eva, callada, deshoja
Una violeta en el té.
Last updated January 14, 2019