by Jose Marti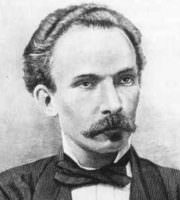 If you've seen a mount of sea foam,
It is my verse you have seen:
My verse a mountain has been
And a feathered fan become.
My verse is like a dagger
At whose hilt a flower grows:
My verse is a fount which flows
With a sparkling coral water.
My verse is a gentle green
And also a flaming red:
My verse is a deer wounded
Seeking forest cover unseen.
My verse is brief and sincere,
And to the brave will appeal:
With all the strength of the steel
With which the sword will appear.
SI VES UN MONTE DE ESPUMAS... (Verso V)
Si ves un monte de espumas,
Es mi verso lo que ves,
Mi verso es un monte, y es
Un abanico de plumas.
Mi verso es como un puñal
Que por el puño echa flor:
Mi verso es un surtidor
Que da un agua de coral.
Mi verso es de un verde claro
Y de un carmín encendido:
Mi verso es un ciervo herido
Que busca en el monte amparo.
Mi verso al valiente agrada:
Mi verso, breve y sincero,
Es del vigor del acero
Conque se funde la espada.
Last updated January 14, 2019