by José Martí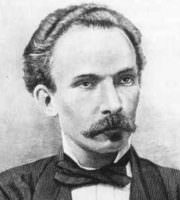 I
I am an honest man
From where the palms grow;
Before I die I want my soul
To shed its poetry.
I come from everywhere,
To everywhere I'm bound:
An art among the arts,
A mountain among mountains.
I know the unfamiliar names
Of grasses and of flowers,
Of fatal deceptions
And exalted sorrows.
On darkest nights I've seen
Rays of the purest splendor
Raining upon my head
From heavenly beauty.
I've seen wings sprout
From handsomest women's shoulders,
Seen butterflies fly out
Of rubbish heaps.
I've seen a man who lives
With a dagger at his side,
Never uttering the name
Of his murderess.
Twice, quick as a wink, I've seen
The soul: once when a poor
Old man succumbed, once when
She said goodbye.
Once I shook with anger
At the vineyard's iron gate
When a savage bee attacked
My daughter's forehead.
Once I rejoined as I
Had never done before,
When the warden, weeping, read
My sentence of death.
I hear a sigh across
The land and sea; it is
No sigh: it is my son
Waking from sleep.
IfI am said to take
A jeweler's finest gem,
I take an honest friend
Put love aside.
I've seen a wounded eagle
Fly to the tranquil blue,
And seen a snake die in its
Hole, of venom.
Well do I know that when
The livid world yields to repose,
The gentle brook will ripple on
In deepest silence.
I've laid a daring hand,
Rigid from joy and horror,
Upon the burnt-out star that fell
Before my door.
My manly heart conceals
The pain it suffers;, sons of
A land enslaved live for it
Silently, and die.
All is permanence and beauty,
And all is melody and reason,
And all, like diamonds rather
Than light, is coal.
I know that fools are buried
Splendidly, with floods of tears,
And that no fruit on earth
Is like the graveyards.
I understand, keep still,
Cast off the versifier's pomp,
And hang my doctoral robes upon
A withered tree.
IX
In the shadow of a wing
I wish to tell this flowered tale
Of the girl from Guatemala
Who died of love.
The wreaths were of lilies
And jasmine and mignonette;
We laid the girl to rest
In a silken casket.
...She gave a little scented pillow
To the forgetful one, and he
Returned, returned now wedded.
She died of love.
Ambassadors and bishops
Carried her bier, and there were
Relays of people following,
All with flowers.
...Wishing to see him again,
She went out on the belvedere;
He returned with his wife;
She died of love.
Her brow was like molten bronze
At his parting kiss,
The brow I loved the best
In all my life!
...At dusk she entered the river;
The doctor pulled out her body.
They say she died of cold; I know
She died of love.
They laid her out on two benches
There in the frigid vault
I kissed her slender hand
And her white shoes.
Softly, when evening fell,
The gravedigger bid me come.
Never again did I see that girl
Who died of love.
X
The lonely trembling soul can ache
When night is on the way;
There is a dance: let's go
To see the Spanish dancer.
It's good they took away
The big flag from the sidewalk,
For should it still be there
I doubt ifI could enter.
The dancer is arriving now,
Haughty and pale of face;
Why say she is Galician?
Not so; she is divine.
She wears a matador's hat
And a cape of brightest red;
Shes like a gilliflower
That had put on a hat!
We notice her brows in passing,
The brows of a traitorous Mooress,
...
Last updated November 30, 2022