by Jose Marti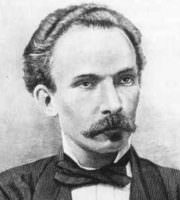 I who live though I have died,
Claim a great discovery,
For last night I verified
Love is the best remedy.
When weighed by the cross, a man
Resolves to die for the right;
He does all the good he can,
And returns bathed in the light.
XXVI-YO QUE VIVO AUNQUE ME HE MUERTO...
Yo que vivo, aunque me he muerto,
Soy un gran descubridor,
Porque anoche he descubierto
La medicina de amor.
Cuando al peso de la cruz
El hombre morir resuelve,
Sale a hacer bien, lo hace, y vuelve
Como de un baño de luz.
Last updated January 14, 2019