by Jose Marti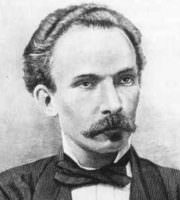 I'll never forget, I vow,
That fall morning long ago,
When I saw a new leaf grow
Upon the old withered bow.
That dear morning when for naught,
By a stove whose flame had died,
A girl in love stood beside
An old man, and his hand sought.
YO NO PUEDO OLVIDAR NUNCA... (Verso XIV)
Yo no puedo olvidar nunca
La mañanita de otoño
En que le salió un retoño
A la pobre rama trunca.
La mañanita en que, en vano,
Junto a la estufa apagada,
Una niña enamorada
Le tendió al viejo la mano.
Last updated January 14, 2019