by Joseph Auslander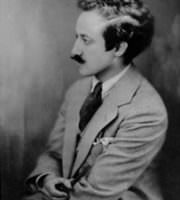 You scorned the shallow fanfare of return;
To you the thought was hell and worse than hell;
Self-banishment, if bleak, was charitable:
No sly soft words, no letters you must burn,
No friendships and no memories to unlearn.
The world's most cautious finger could not sell
Your exile; nor the world's most brazen bell
Tempt whom it taught so massively to spurn.
At Salamis there was an exile who
Remembered Athens; and a lonely prince
In a castle; and a certain lonely Jew
That loved Jerusalem; and many since:
And you who poured your veins out to convince
The multitude that hailed, then hooted, you!
Copyright ©:
This Poem is in the Public Domain
Last updated May 19, 2019