by Lisa Russ Spaar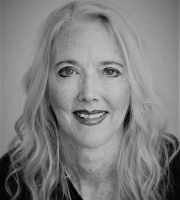 Is it spectacle I'm avoiding
in a logic of surrogacy,
pharmakon gauntlet trees,
corrosive golds, birds in flexed design,
lifting, standing in for an evening
gathered with couples
or taking in a film? Bite me,
charred gusts, as I, solo,
open a window to light's shank,
to Venus, lone & salt-stung earring.
The etched in wretched. Sure.
Inward hardly mean no drama.
But it's a different kind of transit:
day's demise that shows us we're alive.
Copyright ©:
2017, Persea Books
Last updated December 17, 2022