by Lisa Russ Spaar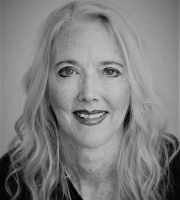 Glinty as spittle,
prink of shortest-day sun
straddles the black ridge,
vault whose ancient pewter speech,
parsed by cloud-cleaved
pulmonary geese, pulsed leaves,
draws me into ohmming hemlocks,
saint's sleeves,
vulnerable resinous wrists.
Beyond or suffused with pain?
Both. Even the moon
does not speak my language
as many times as we've conversed.
Comb me, tricked-up wind.
Quick, before you change your polar name.
Copyright ©:
2017, Persea Books
Last updated December 17, 2022