by Lisa Russ Spaar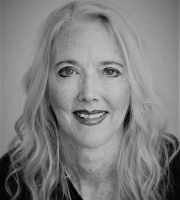 A stick wrapped with sour sponge
to wet the lips; a grave dug
for the sacrificed heart.
Catheter that won't insert.
This lit chain of stores where families eat
beside a highway, wet with rain.
The hurt you feel tonight I made.
It makes me small, crouched again
beneath a desk, spindly, wobbled
open maw that held a ruler,
mess of pencils, books in newsprint.
At the stoplight now, weather unspools
windshield lesions. Someone somewhere
tunes a bomb to her body.
In extremis. What a pain
like hers must feel like, bifold life,
this or that, I can't imagine.
Strapped to mine is yours, I am
extended past our species.
Nuclei in our four hands.
Feet with penitential tongues,
pray here, pray now, always pray for
to be given.
Copyright ©:
2017, Persea Books
Last updated December 17, 2022