by Oscar Fay Adams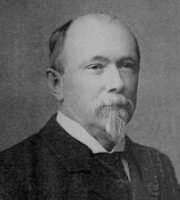 Down the coast of Labrador
Rode the storm-wind conqueror:
In his train the surges roared,
From black clouds the torrents poured.
Miles on miles of frowning cliffs
Marked with Time's strange hieroglyphs
Felt the waves their bases shock,
Heard strange cries that seemed to mock
With their shrill discordant glee
Sounds of human agony.
Drifting wildly with the blast
Scores of vessels southward past.
Down upon their rain-swept decks
Leaped the surges with white necks;
Thundered on their oaken sides
Angry force of mighty tides,
And through shrieking rigging tore
Fiercest gales that fled to shore.
On to land the vessels sped,
On to death the storm-wind led,
Miles on miles of blackened cliffs
Saw the helpless, feeble skiffs
Swung from schooners' sides and then
Oared by stout-armed fishermen,
Shattered, broken at their feet:
Heard mad waves the dirge repeat
Of the men who met their doom
Where the wildest surges boom
When along stern Labrador
Rides the storm-wind conqueror!
Last updated April 19, 2018