by Patience Worth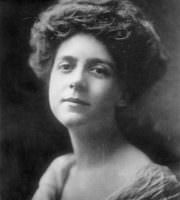 Behold, I would speak not in command,
For unto youth, command is like a lash,
And youth may not run beneath a lash,
But should be beckoned!
Tiptoe youth is upon the path,
And the goal is yon, yon! How wondrous a thing,
That the path in its intricacy is there,
Yet untrammelled. Each turn, each shadow,
Each sunlit space, each stoned waste, each in
Its place is expectantly waiting thee!
Keep confidence, nor betray to one
Shadowed spot the disappointment!
He who win's-wins with the arrow
Of disappointment in his heart's pit,
For no man may miss its barb!
Even if spent, thou dost arrive
At yon far goal, and with the last
Remaining strength pluck forth the arrow,
Lifting up thy head in exultation-
Glorified in the weariness-
Break its shaft and kiss the broken bits,
And pin them with the laurel upon thy brow.
Laurels are but withering things,
But a broken arrow is the symbol
Of the felling of the deer of ambition!
Sit down then and eat of the flesh and feast.
Last updated January 14, 2019