by Philip Freneau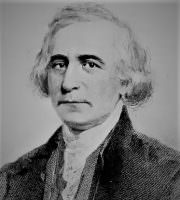 FULL three long years has haughty Britain try'd
By Dutchmen's hands to thresh Van Berkel's hide,
'Till this should be, she gave no hopes of peace,
For only this could make her anger cease.
What rais'd the droll conceit is hard to say,
"That poor Van Berkel's back for peace should pay,"
Long, very long, our heads were kept in doubt
Yet fail'd to find the stubborn secret out.
But lately reading of La Mancha's knight
And Sancho Pança, that ill-fated wight,
Sudden the clouds from my rack'd brains withdrew
And all the mighty secret rose to view.
Enchanted long fair Dulcinea lay
In a dark cave secluded from the day,
Chang'd to a country wench with haggard face—
Lost her imperial charms and every winning grace,
While sad Don Quixote through the wide world stray'd
And mourn'd the hard fate of the peerless maid.
At length from hell's dark chambers Merlin came
And told him how he might release the dame,
And get her up from her dull situation
By Sancho's hide enduring flagellation.
"He on his back (said Merlin) though he grieve
"Three thousand stinging lashes must receive,
"(Even his own hand the scourging must inflict
"Or else my lady will at last be trick'd)
"And when to these he adds just fifteen score
"Then Dulcinea comes, and not before."
"De'il take her, said the squire, and all her crew!
"What has her freedom with my back to do?—
"Ere my back basting shall her beauty save
"Faith she may go enchanted to her grave."
Britain, 'tis plain, has took the hint from hence
And peace, Van Berkel, seeks at thy expence:
Convince her now that you can hold your place,
And, arm'd with scorpions, lash her bull-dog race.
Last updated January 11, 2023