by Ivor Gurney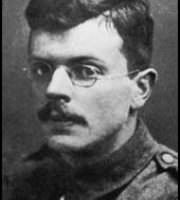 The tiny daisies are
Not anything
Less dear than the great star
Riding in the west afar
To their Mistress Spring.
Jupiter, the Pleiades
To her equal
With celandine and cress,
Stone-crop, freckled pagles
And birdseye small.
Since in her heart of love
No rank is there,
Nor degree aught, hers is
The most willing service
And free of care.
Violets, stars, birds
Wait on her smile, all
Too soon shall August come
Sheaves, fruit, be carried home,
And the leaves fall.
Last updated July 01, 2015