by Ivor Gurney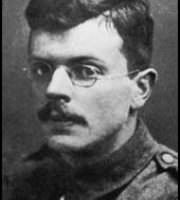 My heart makes songs on lonely roads
To comfort me while you're away,
And strives with lovely sounding words
Its crowded tenderness to say.
Glimmering against the forward dark,
Your face I see with pride, with pain
So that one time I did desire
Never to see that face again.
But I am glad that Love has come
To bind me fast and try my worth;
For Love's a powerful Lord and gives
His friends dominion over the earth.
Last updated July 01, 2015