by Yehuda HaLevi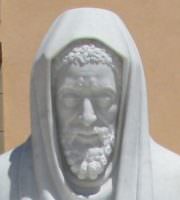 Who is like Thee, revealing the deeps,
Fearful in praises, doing wonders?
The Creator who discovereth all from nothing,
Is revealed to the heart, but not to the eye;
Therefore ask not how nor where—
For He filleth heaven and earth.
Remove lust from the midst of thee;
Thou wilt find thy God within thy bosom,
Walking gently in thine heart—
He that bringeth low and that lifteth up.
And see the way of the soul's secret;
Search it out and refresh thee.
He will make thee wise, and thou wilt find freedom,
For thou art a captive and the world is a prison.
Make knowledge the envoy between thyself and Him;
Annul thy will and do His will;
And know that wheresoever thou hidest thee, there is His eye,
And nothing is too hard for Him.
He was the Living while there was yet no dust of the world;
And He is the Maker and He the Bearer;
And man is counted as a fading flower—
Soon to fade, as fadeth a leaf.
Last updated July 05, 2015