by Preeth Nambiar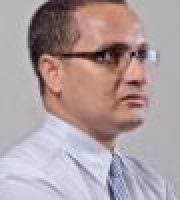 …..And suddenly there was horrifying silence with high beams of light flashing in the darkness on the stage in front of the actor!!!
He observed behind him the background of the stage changed to deep mystery leaving him terrified. He was ignorant of the next scene and remained puzzled unable to recollect the dialogues next for it was written by an author who always surprised him with myriad scenes unknown to the actor himself.
The audience muzzled to surmise the next scene of the act once pleased them with magnificent arena! Among the audience he sought that unknown, invisible author and there was a smile beautiful, yet mysterious on his face! He sat on knees, idol in front of the curious audience and wept, leaving the stage flooded of his tears!
Through the dense crowd he made a way, knelt in front of him and told: "O thee the author of lives of the universe, wipe my tears out! The whispers of the crowd had turned loud and hear them shouting at my ignorance! O Lord of this transcendental play, enlighten, teach me the dialogues and lead me till the end of great act known as life!!"
But there was nothing but a smile on his face, a smile that amazed the poor actor from the very beginning!
Copyright ©:
Preeth Nambiar
Last updated November 13, 2014