by Preeth Nambiar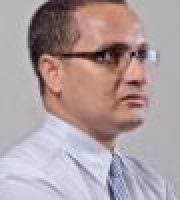 Seems it is raining, dear! But I am unable to open my swollen eyes tired of long medications. When I try to inhale the fragrance of mother earth outside the hospital room, it is nothing but the smell of spirit that enters my nostrils through the mask that supplies the breath. I am tired of these days and wonder how long would I lay down here looking at the roof where the fan jerks in long hours of its work? I am thinking of those rainy days we embraced each other and closed our eyes to listen to the songs of the distant. But today there are thunders that break my ears and frightening lightening flashing on my blurred vision!
The flow of relatives has reduced and I am much comfortable for I do not have to hear those consoling words that multiply the pain and suffering. The visits of doctors have become mechanical, I see them throwing an empty gaze at the people around me and nurse caressing my white hair and disappearing. People think that I am no more conscious and I cannot see, hear anything, but the half closed eyes I can, perhaps better than before! My throat is dry and lips stick to each other, my voice has stopped somewhere within and that makes my days miserable!
I wonder how fortunate you are, though living away and suffer our separation. When death is the separation between us, I no longer wish to be here in this agony and the same was my though since the day you left me. I lived a life for those who gave birth to me struggling hard to fulfill their heart, when held your hands offered a life plentiful of love trying keep up the vows of noble bond, when blessed with a child of our longing rose her up with all what I have. Life became a series of sacrifices and now it is time to sacrifice the very body, the only remaining of a contended life!
But my dear, I was shattered today when I heard our dearest daughter asking the doctor how long will I remain so on the bed! I wonder how could those eyes that we made beautiful with the herbs that we applied stop being wet when all those life saving apparatus were being removed from my body making me hard to breath. We didn't teach her to be rude in life, but to look at everything with love, we have been inspiring to be sensible. Probably she needs to go to catch her dreams, her longing! She is our daughter, O my dear feel not even a bit of anger towards her! But I pray this wouldn't happen when there is such a moment in her life!
My beloved, I feel breathless! When they remove the needles pricked on my body I feel it terribly painful. The rhythm of my heartbeats has gone irregular and I strive hard to breath, but slowly everything is getting eased, I feel light, light as a breeze and now out of a cage where I was bound! But people are still looking at my lifeless body on the bed and I can see some tears on some eyes. Without knowing what had happened, our grand child is singing and rejoicing, but this is what I wanted everyone to do!
The mighty fire has started engulfing my body and I can smell my hairs burning and skin and flesh melting within the firewood. The bones that supported the body shatter in loud noise and I am right here witnessing my identity burning into ashes. People have already left and I see the caretaker of the crematory land trying hard to accelerate the fire, in hurry to catch home early. It is a beautiful evening! Under the colourful skies my celestial flight is waiting, angels with their welcoming smile.
While travelling across the blue sky, across the velvety clouds I have a smile on my lips of a contended life, of a longing to join you in our eternal abode!
Copyright ©:
Preeth Nambiar
Last updated November 13, 2014