by Robert Greene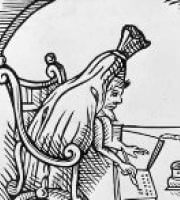 Look, London, look! with inward eyes behold,
What lessons the events do here unfold;
Sin, grown to Pride, to Misery is thrall;
The warning bell is rung, beware to fall!
Ye worldly men, whom wealth doth lift on high,
Beware and fear; for worldly men must die!
The time shall come, where least respect remains;
The sword shall light upon the wisest brains.
The head, that deems to overtop the sky,
Shall perish in his human policy.
Lo, I have said, when I have said the truth;
When will is law; when Folly guideth youth;
When show of zeal is prank'd in robes of zeal;
When Ministers powl the pride of commonweal;
When Law is made of labyrinth of strife;
When Honour yields him friend to wicked life;
When Princes hear by others' ears their folly;
When Usury is most accounted holy!
If these should hap, as would to God they might not;
The plague is near! I speak, although I write not.
When disobedience reigned in the child,
And princes' ears by flattery be beguil'd;
When laws do pass by favour, not by truth:
When falsehood swarmeth both in old and youth;
When gold is made a God to wrong the poor,
And charity exil'd from rich men's door;
When men by wit do labour to disprove.
The plagues for sin sent down by Gods above;
Where great men's ears are stopp'd to good advice,
And apt to hear those tales that feed their vice;
Woe to the land! For from the East shall rise
A Lamb of Peace, the scourge of vanities;
The Judge of Truth, the Patron of the Just.
Who soon will lay presumption in the dust;
And give the humble poor their heart's desire,
And doom the wordlings to eternal fire!
Repent, all you that hear, for fear of plagues!
O, London! this and more doth swarm in thee!
Repent, repent for why the Lord doth see.
With trembling pray, and mend what is amiss;
The sword of justice drawn already is!
Last updated September 28, 2017