by Robert Greene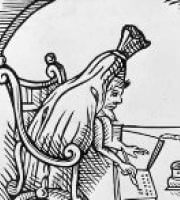 When Nature forged the fair unhappy mould,
Wherein proud beauty took her matchless shape,
She over-slipped her cunning and her skill,
And aimed to fair, but drew beyond the mark;
For, thinking to have made a heavenly bliss,
For wanton gods to dally with in heaven,
And to have framed a precious gem for men,
To solace all their dumpish thoughts with glee,
She wrought a plague, a poison, and a hell:
For gods, for men, thus no way wrought the well.
Venus was fair, fair was the Queen of Love,
Fairer than Pallas, or the wife of Jove;
Yet did the giglot's beauty grieve the smith,
For that she braved the cripple with a horn.
Mars said, her beauty was the star of heaven,
Yet did her beauty stain him with disgrace.
Paris, for fair, gave her the golden ball,
And bought his and his father's ruin so.
Thus Nature making what should far excel,
Lent gods and men a poison and a hell.
Last updated January 13, 2018