by William Somervile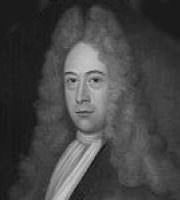 AY EOMAN bold (suppose of Kent)
Liv'd on his own, and paid no rent;
Manur'd his own paternal land,
Had always money at command
To purchase bargains, or to lend,
To' improve his stock, or help a friend;
At Cressy and Poictiers of old
His ancestors were bowmen bold,
Whose good yew bows and sinews strong
Drew arrows of a cloth-yard long,
For England's glory strew'd the plain
With barons, counts, and princes slain.
Belov'd by all the neighbourhood,
For his delight was doing good;
At every mart, his word a law,
Kept all the shuffling knaves in awe.
How just is Heaven, and how true,
To give to such desert its due!
'Tis in authentic legends said,
Two twins at once had bless'd his bed;
Frank was the eldest, but the other
Was honest Numps, his younger brother,
That with a face effeminate,
And shape too fine and delicate,
Took after his fond mother Kate,
A franklin's daughter. Numps was rough,
No heart of oak was half so tough,
And true as steel to cuff or kick,
Or play a bout at doublestick,
Who but friend Numps? while Frank's delight
Was more, say they, to dance than fight;
At Whitson-ales king of the May,
Among the maids, brisk, frolic, gay,
He tripp'd it on each holiday.
Their genius different, Frank would roam
To town; but Numps he staid at home.
The youth was forward, apt to learn,
Could soon an honest living earn;
Good company would always keep,
Was known to Falstaff in East-Cheap;
Threw many a merry main, could bully,
And put the doctor on his cully;
Ply'd hard his work, had learn'd the way
To watch all night and sleep all day.
Flush'd with success, new rigg'd and clean,
Polite his air, genteel his mien;
Accomplish'd thus in every part,
He won a buxom widow's heart.
Her fortune narrow; and too wide,
Alas! lay her concerns, her pride:
Great as a duchess, she would scorn
Mean fare, a gentlewoman born;
Poor and expensive! on my life
'Twas but the devil of a wife.
Yet Frank, with what he won by night,
A while liv'd tolerably tight;
And spouse, who sometimes sat till morn
At cribbage, made a good return.
While thus they liv'd from hand to mouth,
She laid a bantling to the youth,
But whether 'twas his own or no
My authors don't pretend to know.
His charge enhanc'd, 'tis also true
A lying-in's expensive too,
In cradles, whittles, spice-bowls, sack,
Whate'er the wanton gossips lack;
While scandal thick as hailshot flies,
Till peaceful bumpers fill their eyes!
Frank deem'd it prudent to retire,
And visit the good man his sire.
In the stage-coach he seats himself,
Loaded with Madam and her elf;
In her right hand the coral plac'd,
Her lap a China-orange grac'd;
Pap for the babe was not forgot.
And lullaby's melodious note,
That warbled in his ears all day,
Shorten'd the rugged tedious way.
Frank, to the mansion-house now come,
Rejoic'd to find himself at home;
Neighbours around, and cousins, went
By scores, to pay their compliment.
The good old man was kind, 'tis true,
But yet a little shock'd to view
A squire so fine, a sight so new:
But, above all, the lady fair
Was pink'd and deck'd beyond compare;
Scarce a shrieve's wife at an assize
Was dress'd so fine, so roll'd her eyes;
And master too in all his pride,
His silver rattle by his side,
Would shake it oft, then shrilly scream,
More noisy than the yeoman's team,
With tassels and with plumes made proud,
While jingling bells ring out aloud.
The good old dame, ravish'd outright,
Ev'n doted on so gay a sight;
Her Frank, as glorious as the morn,
Poor Numps was look'd upon with scorn.
With other eyes the Yeoman sage
Beheld each youth; nought could engage
His wary and discerning heart
But sterling worth and true desert.
At last he could no longer bear
Such strange sophisticated ware;
He cries, (enrag'd at this odd scene)
" What can this foolish coxcomb mean,
Who, like a pedlar with his pack,
Carries his riches on his back?
Soon shall this blockhead sink my rents,
And alienate my tenements,
Which long have stood in good repair,
Nor sunk nor rose from heir to heir;
Still the same rent without advance
Since the Black Prince first conquer'd France:
But now, alas! all must be lost,
And all my prudent projects crost.
Brave honest race! is it thus then
We dwindle into gentlemen?
But I'll prevent this foul disgrace;
This butterfly from hence I'll chase."
He saddles Ball without delay,
To London town directs his way,
There at the Heralds' office he
Took out his coat and paid his fee,
And had it cheap as wits agree:
A lion rampant, stout and able,
Argent the field, the border sable;
The gay escutcheon look'd as fine
As any new-daub'd country sign.
Thus having done what he decreed,
Home he returns with all his speed:
" Here, son," said he, " since you will be
A gentleman in spite of me;
Here, Sir, this gorgeous bauble take,
How well it will become a rake!
Be what you seem: this is your share;
But honest Numps shall be my heir;
To him I'll leave my whole estate,
Lost my brave race degenerate."
Last updated May 08, 2018