by William Somervile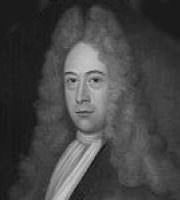 When now the third revolving Moon appears,
With sharpened Horns, above the Horizon's Brink;
Without Lucina 's Aid, expect thy Hopes
Are amply crowned; short Pangs produce to Light
The smoking Litter, crawling, helpless, blind,
Nature their Guide, they seek the pouting Teat
That plenteous streams. Soon as the tender Dam
Has formed them with her Tongue, with Pleasure view
The Marks of their renowned Progenitors,
Sure Pledge of Triumphs yet to come. All these
Select with Joy; but to the merciless Flood
Expose the dwindling Refuse, nor overload
The indulgent Mother.
Last updated February 21, 2018