by William Somervile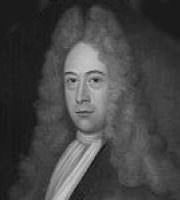 WHO MADE ME A PRESENT OF A SILVER PEN .
F AIR-ONE ! accept the thanks I owe;
'Tis all a grateful heart can do.
If e'er my soul the muse inspire
With raptures and poetic fire,
Your kind munificence I'll praise,
To you a thousand altars raise;
Jove shall descend in golden rain,
Or die a swan, but sing in vain.
Phébus, the witty and the gay,
Shall quit the chariot of the day,
To bask in your superior ray.
Your charms shall every god subdue,
And every goddess envy you
Add this but to your bounty's store,
This one great boon, I ask no more;
O gracious nymph! be kind as fair,
Nor with disdain neglect my prayer,
So shall your goodness be confessed,
And I your slave entirely blessed;
This pen no vulgar theme shall stain,
The noblest palm your gift shall gain,
To write to you, nor write in vain.
Last updated January 11, 2018