by Winifred Mary Letts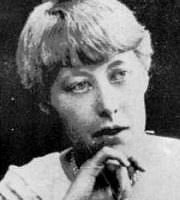 My jewel of the world, she sleeps so fast,
She will not hear you, Spring wind, if you blow;
So let you shake the blossoms of the thorn
Till her bed is hidden deep in Easter snow.
Bright jewel of my heart, she sleeps at last,
O kind earth, wrap her round in your brown shawl.
Sing soft to her and rock her in your arms
So she'll not be lonesome after me at all.
I hear the childher laugh as they run past,
They see their mother watching at the door;
It's long I'll wait beside the lonely hearth,
For there's sorra child of mine will cross the floor.
O thorn trees round her grave, now let you cast
Your snow upon the place she takes her rest.
The while I stay and cheat my heart with dreams
That I'm holding her again upon my breast.
Last updated October 01, 2017