by Laurence Hope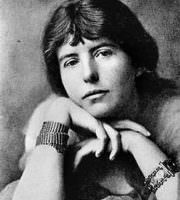 I see your red-gold hair and know
How white the hidden skin must be,
Though sun-kissed face and fingers show
The fervour of the noon-day glow,
The keenness of the sea.
My longing fancies ebb and flow,
Still circling constant unto this;
My great desire (ah, whisper low)
To plant on thy forbidden snow
The rosebud of a kiss.
The scarlet flower would spread and grow,
Your whiteness change and flush,
Be still, my reckless heart, beat slow,
'T is but a dream that stirs thee so!)
To one transparent blush.
Last updated January 14, 2019