by Laurence Hope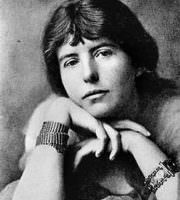 Beat on the Tom-toms, and scatter the flowers,
Jasmin, Hibiscus, vermillion and white,
This is the day, and the Hour of Hours,
Bring forth the Bride for her Lover's delight.
Maidens no more, as a maiden shall claim her,
Near, in his Mystery, draweth Desire.
Who, if she waver a moment, shall blame her?
She is a flower, and love is a fire.
Choti Tinchaurya syani hogayi!
Give her the anklets, the rings and the necklace,
Darken her eyelids with delicate Art,
Heighten the beauty, so youthful and fleckless,
By the Gods favoured, oh, Bridegroom thou art!
Twine in thy fingers her fingers so slender,
Circle together the Mystical Fire,
Bridegroom,--a whisper--be gentle and tender,
Choti Tinchaurya knows not desire.
Abhi Tinchaurya syani hogayi!
Bring forth the silks and the veil that shall cover
Beauty, till yesterday, careless and wild,
Red are her lips for the kiss of a lover,
Ripe are her breasts for the lips of a child.
Centre and Shrine of Mysterious Power,
Chalice of Pleasure and Rose of Delight,
Shyly aware of the swift-coming hour,
Waiting the shade and the silence of night,
Choti Tinchaurya syani hogayi!
Still must the Bridegroom his longing dissemble,
Longing to loosen the silk-woven cord,
Ah, how his fingers will flutter and tremble,
Fingers well skilled with the bridle and sword.
Thine is his valor oh, Bride, and his beauty,
Thine to possess and re-issue again,
Such is thy tender and passionate duty,
Licit thy pleasure and honoured thy pain.
Choti Tinchaurya syani hogayi!
Choti Tinchaurya, lovely and tender,
Still all unbroken to sorrow and strife.
Come to the Bridegroom who, silk-clad and slender,
Brings thee the Honour and Burden of Life.
Bidding farewell to thy light-hearted playtime,
Worship thy Lover with fear and delight,
Art thou not ever, though slave of his daytime,
Choti Tinchaurya, queen of his night?
Choti Tinchaurya syani hogayi!
Last updated January 14, 2019