by Edgar Albert Guest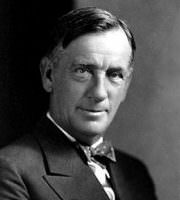 He wiped his shoes before his door,
But ere he entered he did more;
'Twas not enough to cleanse his feet
Of dirt they'd gathered in the street;
He stood and dusted off his mind
And left all trace of care behind.
"In here I will not take," said he,
"The stains the day has brought to me.
"Beyond this door shall never go
The burdens that are mine to know;
The day is done, and here I leave
The petty things that vex and grieve;
What clings to me of hate and sin
To them I will not carry in;
Only the good shall go with me
For their devoted eyes to see.
"I will not burden them with cares,
Nor track the home with grim affairs;
I will not at my table sit
With soul unclean, and mind unfit;
Beyond this door I will not take
The outward signs of inward ache;
I will not take a dreary mind
Into this house for them to find."
He wiped his shoes before his door,
But paused to do a little more.
He dusted off the stains of strife,
The mud that's incident to life,
The blemishes of careless thought,
The traces of the fight he'd fought,
The selfish humors and the mean,
And when he entered he was clean.
Last updated January 14, 2019