by Edgar Albert Guest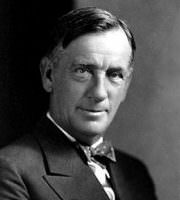 Who shall sit at the table, then, when the terms
of peace are made--
The wisest men of the troubled lands in their
silver and gold brocade?
Yes, they shall gather in solemn state to speak
for each living race,
But who shall speak for the unseen dead that shall
come to the council place?
Though you see them not and you hear them not,
they shall sit at the table, too;
They shall throng the room where the peace is
made and know what it is you do;
The innocent dead from the sea shall rise to stand
at the wise man's side,
And over his shoulder a boy shall look--a boy
that was crucified.
You may guard the doors of that council hall with
barriers strong and stout,
But the dead unbidden shall enter there, and never
you'll shut them out.
And the man that died in the open boat, and the
babes that suffered worse,
Shall sit at the table when peace is made by the
side of a martyred nurse.
You may see them not, but they'll all be there;
when they speak you may fail to hear;
You may think that you're making your pacts
alone, but their spirits will hover near;
And whatever the terms of the peace you make
with the tyrant whose hands are red,
You must please not only the living here, but must
satisfy your dead.
Last updated January 14, 2019