by Edgar Albert Guest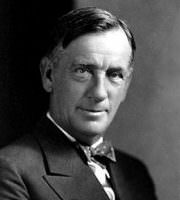 BACK UP Old Age and Wrinkled Face,
Come, Selfish Grown-Up, quit the place,
You Pessimist, depart!
Now, Gloomy Gus and Doleful Frown,
There is no room for you in town,
Nor Bitter Ache and Smart;
Childhood tonight is King of Earth,
Make room for Laughter and for Mirth!
Step down a moment, Out-for-Fame,
Hard-headed business man, the same,
And You, who won't believe;
Move on now, Lust-for-Gold, make way
For Innocence and Youth and Play,
For this is Christmas Eve;
Bowed-down-by-Care, make room, make room,
Let little ones dispel the gloom.
Soured-on-the-World, you've had your fling,
You've been a failure as a King,
Your reign at last is done.
And you, grim prophet of Despair,
Who view no thing on earth as fair,
Make way tonight for Fun;
Your citadels are overthrown,
Tonight Youth comes unto the throne.
Envy and Hate and Haughty Pride,
'T is time for you to turn aside,
Let Love and Childhood pass;
The night of nights has come once more,
E'en Sorrow journeys from the door,
Come, little boy and lass,
The world is yours, ascend the throne,
Your subjects we, and yours alone.
Last updated January 14, 2019