by Edgar Albert Guest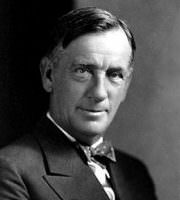 DOWN the lanes of August-and the bees upon the wing,
All the world's in color now, and all the song birds sing;
Never reds will redder be, more golden be the gold,
Down the lanes of August, and the summer getting old.
Mother Nature's brushes now with paints are dripping wet,
Gorgeous is her canvas with the tints we can't forget;
Here's a yellow wheat field-purple asters there,
Riotous the colors that she's splashing everywhere.
Red the cheeks of apples and pink the peaches' bloom,
Redolent the breezes with the sweetness of perfume;
Everything is beauty crowned by skies of clearest blue,
Mother Earth is at her best once more for me and you.
Down the lanes of August with her blossoms at our feet,
Rich with gold and scarlet, dripping wet with honey sweet.
Rich or poor, no matter, here are splendors spread
Down the lanes of August, for all who wish to tread.
Last updated January 14, 2019