by Edgar Albert Guest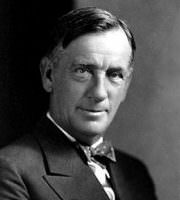 LOOKIN' back, I think I see,
Folks who thought a heap of me,
Folks who used to shout my praise,
Help me, too, along life's ways,
Cheer me up when I was blue,
Share my little sorrows, too,
Knew me well before I came
Here to make myself a name.
Wonder where they are today,
Wonder if they ever say
Kind words of me, now as then,
Dear old women, good old men;
Often now I blush for shame,
In the rush for gold and fame
From them I have turned away.
Wonder where they are today?
Have they quite forgotten me?
Would they know me, could they see
Me once more, and would they say
Those kind words of yesterday?
O, that I could journey back,
Over life's wide, boundless track,
All their kindness I 'd repay
In a better, sweeter way.
I 'd not drift away as I
Now have drifted; I would try
To remember them and be
Still with them in memory.
I would try to know that they
Talked of me from day to day;
Never would I wondering be
Have old friends forgotten me.
Last updated January 14, 2019