by Edgar Albert Guest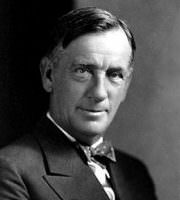 She is gentle, kind and fair,
And there's silver in her hair;
She has known the touch of sorrow,
But the smile of her is sweet;
And sometimes it seems to me
That her mission is to be
The gracious cookie-lady
To the youngsters of the street.
All the children in the block
Daily stand beside the crock,
Where she keeps the sugar cookies
That the little folks enjoy;
And no morning passes o'er
That a tapping at her door
Doesn't warn her of the visit
Of a certain little boy.
She has made him feel that he
Has a natural right to be
In her kitchen when she's baking
Pies and cakes and ginger bread;
And each night to me he brings
All the pretty, tender things
About little by-gone children
That the cookie-lady said.
Oh, dear cookie-lady sweet,
May you beautify our street
With your kind and gentle presence
Many more glad years, I pray;
May the skies be bright above you,
As you've taught our babes to love you;
You will scar their hearts with sorrow
If you ever go away.
Life is strange, and when I scan it,
I believe God tries to plan it,
So that where He sends his babies
In that neighborhood to dwell,
One of rare and gracious beauty
Shall abide, whose sweetest duty
Is to be the cookie-lady
That the children love so well.
Last updated January 14, 2019