by Edgar Albert Guest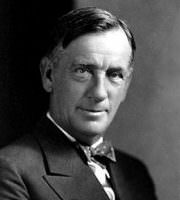 I LIKE the dream days best of all,
The hollyhocks against the wall;
The rambler roses blushing red,
The blue skies bending overhead,
With just enough of summer breeze
To whisper in the leafy trees;
When lazily the plow boys plod,
And lazily the blossoms nod,
And everything about me seems
Wrapt up somehow in pleasant dreams.
I like to lie full length and flat,
And shade my eyes with my old hat;
Building out yonder in the skies
Air castles grand, whose towers rise
Higher than summer swallows fly,
The castles of sweet by and by;
Forgetting care and shirking toil,
Forgetting lust for fame and spoil,
Just dreaming dreams that won't come true,
But living as the flowers do.
I like the dream days best, for then
The world 's in tune with lazy men;
The very flowers droop and sway
In such a restful, lazy way
As though they, too, would like to be
Stretched out beneath this tree with me;
And fleecy, snow white clouds float by
As though no part of earth or sky.
And far off seem the busy marts
Where gather shrewd and sordid hearts,
Just roses, hollyhocks and I,
Dreaming while Father Time goes by.
Last updated January 14, 2019