by Ivor Gurney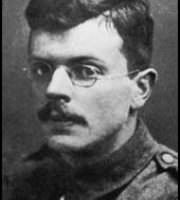 Bread and cheese grow wild in the green time,
Children laugh and pick it, and I make my rhyme
For mere pleasure of seeing that so subtle play,
Of arms and various legs going every any way.
And they turn and laugh for the unexpensiveness
Of country grocery and are pleased no less
Than hedge sparrows. Lessons will be easier taken,
For this gypsy chaffering, the hedge plucked and shaken.
Last updated July 01, 2015