by Jaime Gil de Biedma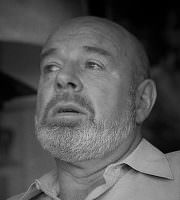 How could I, here, as the evening descends,
Clad in thin leopard skin, towards
Your belated body,
Fail to see your transparence.
Do ignite upon the mortal
Air surrounding us
Your bright shadow.
You give yourself in hiding
But not quite, and I am left
Alight by you as an answer
Born from you in my very depths.
Who are you, who am I,
Where do borders end, tell me,
And in which bounds thereof,
Of your breathing or your substance,
Don't I respire inside your breath.
May your hands craft me forever,
May my hands craft you forever
And may the soft blowing of a god
Set the clay fledgling
Free forever.
Last updated November 29, 2022