by Jaime Gil de Biedma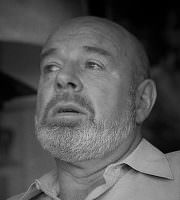 Just imagine now you and I
Talking late in the night,
Man unto man, finally.
Just imagine
One of those nights, never to be forgotten,
All rare communion, the half-empty
Bottle, and the soiled ashtrays,
Done ranting about life.
For I am to open up my heart,
My unfaithful heart,
Naked waist down,
Hypocrite reader – mon semblable, mon frère!
For it is not the orgasm-chaser's impatience
That which impels my body, bound to other bodies
Preferably young at that:
I crave, too, sweet love,
Tender love to sleep side by side
Love that would cheer up my mornings,
Close-by like a bird.
I for one thing cannot undress,
Nor can I enter an embrace
Not feeling – if only for an instant –
The same dazzle of my twenties!
To be well-versed in love, to come to grips with it,
One needs to have been alone.
And one needs too, over four hundred nights
– With four hundred different bodies –
To have made love. For its mysteries,
As the poet goes, are the soul's remit,
Yet only to read them in the book which is the body.
And this is why I'm glad I've rolled
On gravel, two bodies half-dressed,
Groping for that shoulder's tendon.
The memory of so many an occasion still moves me …
The mountain road,
Those furtive embraces, so very opportune,
And then the screeching of the brakes,
Standing up, blinded helpless by the light,
Our backs against a wall.
Or the sunset by the river
Naked and laughing, crowned with ivy.
Or that Roman door, in via del Babuino.
And memories of faces and cities
I hardly ever knew, glimpses of bodies,
Of staircases unlit, cabins,
Bars, deserted blind alleys, brothels,
Endless bathing huts and restrooms,
Moats of castles.
Memories of you, more than anything,
Oh, nights in love hotels,
Decisive nights in squalid pensions,
In rooms that had just gone cold,
Nights that would give back to their guests
That forgotten taste of themselves!
History in body and soul, like a broken image
De la langueur goûtée à ce mal d' être deux.
Not despising
– Joyful as a midweek party –
Experiences of promiscuity.
Although I know that nothing would be worth
The labor of indiscriminate love
Had it not been for the true love.
My love,
The whole picture of my life,
The sun that lights up the very nights I rob it of.
His youth, mine,
– The music of my soundtrack –
Still smiling with the awkward grace
Of each body young,
Each anonymous tryst,
Lending it its light. Lending it soul.
And no handsome thighs there are
That would not make me think of his,
When we had just met, before we went to bed.
Neither is there a one-night stand
That could compare
With the passion that comes from knowledge,
With the experience that is
The years of our love.
Because in love
Time is of the essence,
And sweet it is to trace
With melancholy hand,
A path along your body
– Whilst one needs but a familiar gesture
Aflutter on your lips,
Or the gentle throbbing of a member –
To make me feel the wonder
Of that old grace,
Fleeting as a reflection.
Against his fuzzy skin,
Once years have passed and we are nearing our end,
I wish to press my lips,
Convoking the image of his body,
And that of every body I ever loved,
If only for an instant, undone by time.
To ask for the strength to be able to live
Stripped of beauty, endurance and desire,
While we stay by each other's side
Until we die in peace, the two of us,
Dying the death of those who've loved much, as they say.
Last updated November 29, 2022