by Jaime Gil de Biedma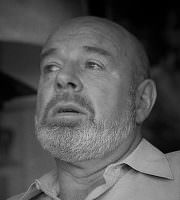 What are you coming for,
Youth,
Life's cheeky charm?
What's brought you to this beach?
We were just being quiet, we old folks
And there you come, to wound us, to bring back to life
The scariest, impossible dreams,
To stir our imaginations.
Risen from the waves,
All splendor, brilliance, pure sensation,
An animal's lurking sway,
You made your way ashore,
With budding rosy breasts,
With buttocks impish as your smile,
O graceful goddess of full ankles,
And with a hint
(so yours)
Of a stomach shaping into
Hips: delicate beauty,
Precise and indecisive,
To rest one's head against and weep.
And we see you coming – a figment of imagination,
As though from a mythical riverine abode
With bulls and conchs and dolphins,
Stepping on fine sand, between the sea and the sky,
Still trembling with drops,
Sun-dazzled and beaming with a smile.
The harbinger of life's dominion,
A dreamy glimpse of another, bolder, freer life,
Free of desire rancorous with remorse
-free of desiring you, sophisticated
Childlike beast, in whom
The explicit beauty of a starlet
And an amusing princely shyness coalesce.
And this despite all of your frowning,
Your mind besieged by a thought
Both moving and obtuse,
Turning your face seaward, glistening
Amidst strands of blond hair
Like Antinous' melancholic countenance,
O you indifferent beauty,
For all your beach saunter as though unaware
That men and dogs are on your heels,
And so are gods and angels,
The archangels themselves,
Thrones, abominations…
Last updated November 29, 2022