by Patience Worth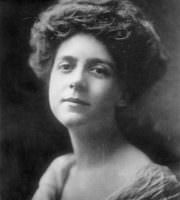 Give me no trumpet!
Oh, let me declare myself-not holy,
But Godlike, for He is beyond the holiest.
Let me make bare before my brothers.
I have no bread but what is thine.
I have no wine but that the sup
Within the cup is for the thirsty.
I have no words but that they become
Honied, and a fitting stuff to sing
That song which fitteth no man's throat-
But abideth within the heart.
Oh, he may not sing truly
Whose lay is within his throat.
Nay, his heart must beat in accord,
And become a harp, while his soul
Shall lend its hand unto the stroking.
Oh, make me no trumpet! I shall sing
Through that crystal cup of alabaster,
Which is the thing containing Him.
Oh, behold, my body is the alabaster cup!
And woe is me if I defile it!
I have come, not that I make music
For the sending of men forth to slumber,
But unto the awakening! He who hath
The Holy Ghost within his heart,
Needeth not a flame nor a brand
For the lighting of his days.
Nay, and he who hath His words
Within his heart, needeth no honey
For to sweeten his hours.
Behold, the rod of Moses is
Within the hand of man-Strike!
Last updated January 14, 2019