by Ivor Gurney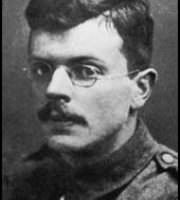 O does some blind fool now stand on my hill
To see how Ashleworth nestles by the river?
Where eyes and heart and soul may drink their fill
The Cotswolds range out Eastward as if never
A curve of them the hand of Time might change;
Beauty sleeps most confidently for ever.
The blind fool stands, his dull eyes free to range
Endlessly almost, and finds no word to say;
Not that the sense of wonder is too strange
Too great for speech. Naught touches him; the day
Blows its glad trumpets, breathes rich-odoured breath;
Glory after glory passes away.
(And I'm in France!). He looks, and sees beneath
The clouds in steady Severn silver and grey.
But dead he is, and comfortable in Death.
Last updated July 01, 2015