by Ivor Gurney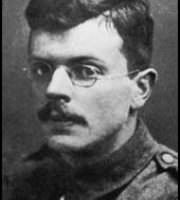 We who praise poets with our labouring pen
And justify ourselves with laud of men
Have not the right to call our own our own,
Being but the ground-sprouts from those great trees grown.
The crafted art, the smooth curve, and surety
Come not of nature till the apprentice free
Of trouble with his tools, and cobwebbed cuts,
Spies out a path his own and casts his plots.
Then looking back on four-square edifices
And wind-and-weather standing tall houses
He stakes a court and tries his unpaid hand;
Begins a life who salt is arid sand;
Of cactus whose bread comes, whose wine is clear,
Being bitter water from fount all too near.
Happy if after toil he grow to worth
And prise of complete men of earlier birth
Of happier pen and more steel-propertied
Nerves of the capable and the mighty dead.
Last updated July 01, 2015