by Ivor Gurney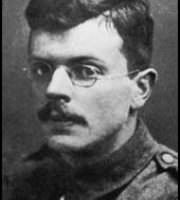 The youth burning couch grass is as tired
As muscle has right to bear and keeps work on
The brown earth slopes from the potato field to the wired
Sheep enclosure; and hidden high and white the sun.
Brown the sense of things, the light smoke blows across
The field face, light blue wisps of sweet bitter reek
Dear to the Roman perhaps, so old seems the dross
Burning of root, grass, wheat, so near, easy to seek.
Old is the land a thousand generations
Have tilled there, sought with bright sweat the stuff of its bread
Here one comes for the sense of fine books, revelations
Of beauty in usually, found as well of heart as of head.
And all the tales of far Europe that come on one,
The sense of myriads tending the needings of life
And more to one than the near memory of battle gun
Peace with its sorrow blots out the agonie's of strife.
Last updated July 01, 2015