by Edgar Albert Guest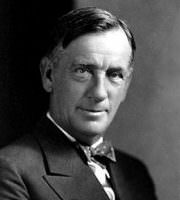 Who is it lives to the full every minute,
Gets all the joy and the fun that is in it?
Tough as they make 'em, and ready to race,
Fit for a battle and fit for a chase,
Heedless of buttons on blouses and pants,
Laughing at danger and taking a chance,
Gladdest, it seems, when he wallows in mud,
Who is the rascal? I'll tell you, it's Bud!
Who is it wakes with a shout of delight,
And comes to our room with a smile that is bright?
Who is it springs into bed with a leap
And thinks it is queer that his dad wants to sleep?
Who answers his growling with laughter and tries
His patience by lifting the lids of his eyes?
Who jumps in the air and then lands with a thud
On his poor daddy's stomach? I'll tell you, it's Bud!
Who is it thinks life is but laughter and play
And doesn't know care is a part of the day?
Who is reckless of stockings and heedless of shoes?
Who laughs at a tumble and grins at a bruise?
Who climbs over fences and clambers up trees,
And scrapes all the skin off his shins and his knees?
Who sometimes comes home all bespattered with blood
That was drawn by a fall? It's that rascal called Bud.
Yet, who is it makes all our toiling worth while?
Who can cure every ache that we know, by his smile?
Who is prince to his mother and king to his dad
And makes us forget that we ever were sad?
Who is center of all that we dream of and plan,
Our baby to-day but to-morrow our man?
It's that tough little, rough little tyke in the mud,
That tousled-haired, fun-loving rascal called Bud!
Last updated January 14, 2019