by Ivor Gurney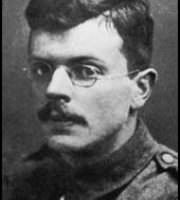 The ploughed field and the fallow field
They sang a prudent song to me;
We bide all year and take our yield
Or barrenness as case may be.
What time or tide may bring to pass
Is nothing of our reckoning,
Power was before our making was
That had in brooding thought it's spring.
We bide our fate as best betides
What ends the tale may prove the first.
Stars know as truly of their guides
As we the truth of best or worst.
Last updated July 01, 2015