by Ivor Gurney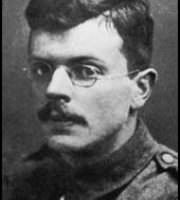 The long night, the short sleep, and La Gorgues to wander,
So be the Fates were kind and our Commander;
With a mill, and still canal, and like-Stroudway bridges.
One looks back on these as Time's truest riches -
Which were so short an escape, so perilous a joy -
Since fatigues, weather, Line trouble, or any whimsical play
Division might hatch out would have finished peace.
There was a house there - (I tell the noted thing)
The kindliest woman kept, and an unending string
Of privates as wasps to sugar went in and out.
Friendliness sanctified all there beyond doubt,
As lovely as the brick mill above the still green
Canal where the dark fishes went almost unseen.
Gloucester's B. Company had come down from Tilleloy, they
Lousy, thirsty, avid of any employ
Of peace; and this woman in leanest times had plotted
A miracle to amaze the army-witted - the time-cheated.
And this was cafe-au-lait as princes know it:
And fasting, and poor-struck; dead but not so as to show it,
A drink of epics, dooms, battles, a height of tales,
Rest, heat, cream, coffee; the maker tries and fails
The poet too, where such need such satisfaction had,
A campaign thing that makes keen remembrance sad.
It was light there, too, in the clear North French way,
It blessed the room and bread; and the mistress-giver ...
The husband for his wife's sake, both for more than a day
Were blessed by many soldiers tired however, and forever
A mark in Time, a Peace, a Making-delay.
God bless the honourers of boy soldiers and the folk generous
Who dwell in light clean houses, and are glad to be thus
Serving France with love generous, in the light, clean house.
Last updated July 01, 2015