by Ivor Gurney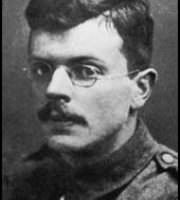 Dawn comes up on London,
And night's undone.
Stars are routed
And street lamps outed.
Sodden great clouds begin sail again
Like all-night anchored galleons to the main
From careful shallows to the far-withdrawn
Wide outer seas of sky,
Sleepers above river change their pain,
Lockhart's shows lively up Blackfriars Lane
Motors dash by
With 'Mirrors', 'Mails', 'Telegraphs' what not?
South shore of Thames on London shows a blot,
And first careful coffee-stall is withdrawn.
Only the poet strolls about at ease,
Wondering what mortal thing his soul may please,
And spitting at the drains, while Paul's as ever
Is mighty and a king of sky and river,
And cares no more, Much-Father, for this one
Broke child, although a poet-born and clever,
Than any spit-kid of seven million,
Must drudge all daylight till his earnings done.
A huffier has her red sails just a quiver;
Sun's very near now and the tide's a-run.
Last updated July 01, 2015